Quality, passion for details
Product quality and Customer Satisfaction. Supply chain. Product and process innovation.
Product quality and Customer Satisfaction
Employees in the Group always work whilst bearing in mind that the constant pursuit of product excellence and quality is the key factor required in order to be recognized as a global market leader in steel and aluminium processing.
To achieve excellence, the crucial activities to be carried out on a daily basis are:
To update industrial processes as much as possible so as to make them fully reliable from the very beginning of newly commissioned projects.
To constantly develop human resource skills through training.
To follow standard maintenance cycles.
To closely monitor supplier quality.
To make personnel aware of customer expectations and their key role in guaranteeing that they are met.
Employees are thus frequently encouraged to follow the motto Quality, passion for details.
Product quality is measured mainly through customer satisfaction. In a sector distinguished by an incredibly high level of competition, customer satisfaction manifests itself – first of all – through the renewal of existing orders once the products have reached their end-of-life, and through new, incoming orders. The Group's constant and consistent growth in the past few years is of course a crucial piece of evidence in this area (EUR 330 million turnover growth in the past three years – CAGR 7.7%).
Secondly, customer satisfaction is proven by tangible forms of recognition awarded to the Group and its divisions.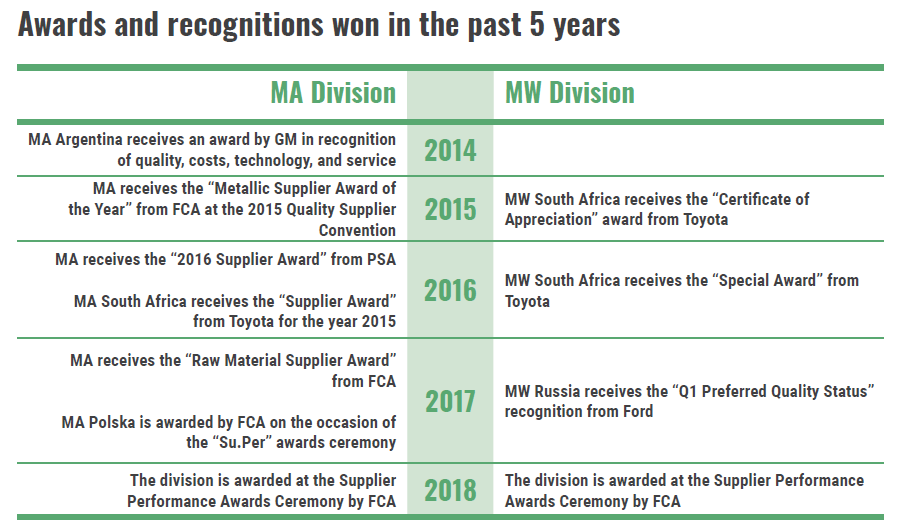 Supply chain
Suppliers play a fundamental role in the pursuit of high quality and the competitiveness of the Group's products. The main purchase/supplier types were:
Raw material
Direct goods and services for production purposes
Investments plant and machinery
Tooling/dies sold to customers
Purchases of raw materials (steel and aluminium in particular) are carried out through a limited number of suppliers, large multinational manufacturers, or directly from the end customer – following the "resale" mechanism.
Direct goods and services for production purposes – related directly to the production cycle – mainly include semi-finished goods, transportation, energy, maintenance, and cleaning. There is a vast supplier pool for such services, and suppliers are mainly located in the nations in which the Group operates, given the demand to provide prompt assistance to the production activities.
The total sum of purchases related to the raw materials and direct goods and services categories in 2018 was about EUR 1,367 million.
Purchases related to investments, plant and machinery, and tooling/dies sold to customers represent a spot form of purchase carried out with multinational players that may be located anywhere in the world.
Investments in systems and machinery only amounted to about EUR 139 million in 2018.
In order to maintain the highest possible level of customer satisfaction, the Group selects its suppliers based upon objective quality and reliability characteristics, technological innovation, and value for money. Nevertheless, social and environmental aspects – with a consequent positive impact on the local economy – are increasingly considered in the assessment of suppliers. To this end, the Group has launched a project that entails the subscription by main suppliers of a certification concerning Group guidelines in the scope of sustainability, related in particular to:
Compliance with local legislation.
The implementation of a solid internal governance structure dedicated to Corporate Social Responsibility.