People are our utmost priority
Health and safety at the workplace. Relationships with labour unions. Human rights and equal opportunities. Personnel training.
CLN Group is comprised of a multicultural group of employees: about 7,700 individuals (only subsidiaries) as at 31/12/2018.
Out of these, 22% work in Italy, 28% in Poland, 22% in South Africa, 16% in France, 5% in Germany, and the remaining 7% in Romania, Russia, and Slovakia.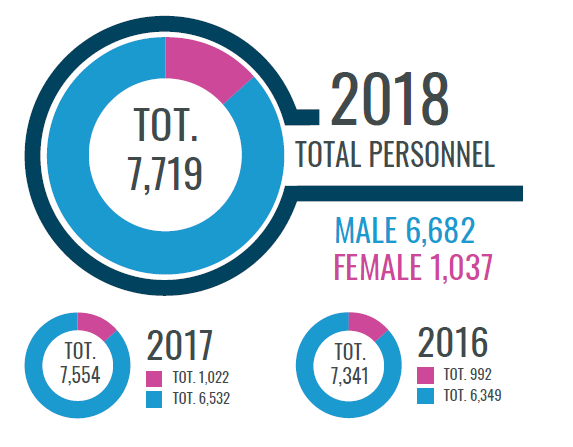 ---
Health and safety at the workplace
The topic of health and safety at the workplace is one of the Group's absolute priorities. To promote health and safety at the workplace the Group has introduced suitable measures and positive actions to ensure that employees may fully exercise their duties.
The requirements of the Group for this purpose are as follows:
to guarantee the observance of regulatory provisions regarding health and safety, and to promote initiatives based on a process of constant improvement and prevention;
to define and implement control strategies for risk prevention;
to continuously improve corporate performance and constantly monitor risks deriving from work activities;
to provide corporate management with an efficient and effective management system that allows a consistent process of identification and solution of emerging issues, as well as an orderly flow of information that supports decision-making and operational responsibilities;
to boost personnel involvement, motivation, and awareness;
to contribute to improving levels of health and safety at the workplace;
to improve internal and external corporate image, in order to gain confidence from customers, suppliers, and control entities/authorities;
to gradually reduce costs of health and safety at the workplace.
In this respect, the Group's Safety Policy establishes that the protection of health and safety must be considered a priority and an essential responsibility for all levels of the workforce, as well as a constant commitment to be applied to all corporate activities.
The CLN Group aims to reduce and prevent injuries and occupational diseases. Such principles have been set in stone through the identification of annual goals for a constant and gradual reduction of injuries and corresponding indicators compared to the previous year, with a final goal of zero injuries, which has in fact already been achieved by a number of Group companies.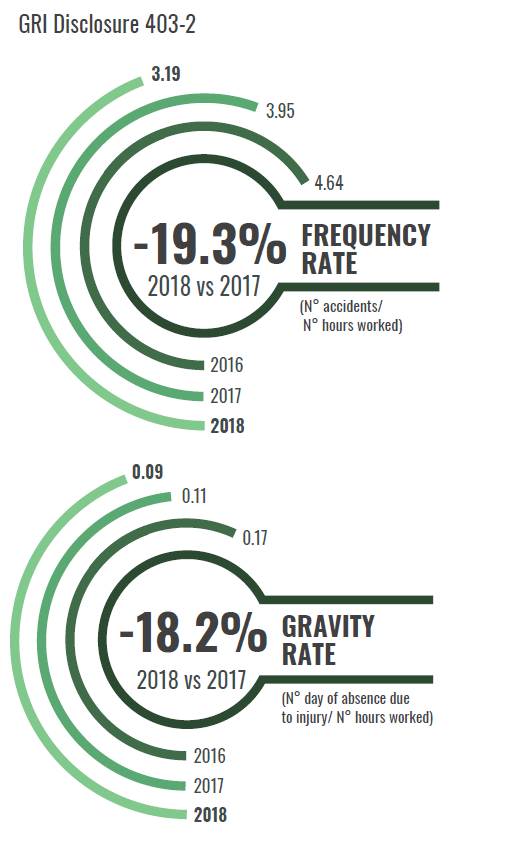 56% of the Group plants have achieved OHSAS 18001 certification, and the aim is to reach 80% by 2020.
Among the various initiatives to reach and maintain such results, "Safety Days" have been created to train and raise awareness about the topics related to health and safety at the workplace; they are held on a rotational basis at the main facilities of the Group. The sessions are mainly directed at employees, but also involve their families, in order to underline how the health and safety culture must be given value in all contexts, not only the workplace.

---
Human rights and equal opportunities
Human resource management – from the selection process to the hiring phase – is based upon principles of non-discrimination and equal rights.
In this regard, the Group works to guarantee the same professional growth and knowledge development opportunities for its entire workforce, without any type of discrimination.
Particular focus is dedicated to management of diversity, in terms of gender equality and disability – the two fields with the highest risk of discrimination. The Group views the concept of diversity in terms of giving value to the differences between individuals, and every employee's contribution to creating an environment in which people's identities are respected.
The Group invites all its employees to adopt this philosophy, in accordance with the principles included in the Code of Ethics and the Equality and Diversity Policy.
---
Relationships with labour unions
The Group's relationship with labour unions is historically based on transparency and focused on finding balanced agreements between the parties. In all the regions in which it operates, the Group adopts a negotiated approach based upon prompt communication of business scenarios and strategies, with particular reference to market-related issues and production projections, as well as – in the employment area – in terms of human resource management. As at December 31st, 2018, about 75% of all the Group's employees were employed through collective bargaining agreements.
As a further proof of the proper functioning of this approach, we draw attention to the fact that in the past few years the Group has not faced any incidents of social unrest or unilateral actions, such as strikes or interruption of overtime, with the exception of actions related to national level conflict such as general strikes.
The Group recognizes the labour union as a stable interlocutor, and has never carried out actions to limit worker's representation within the individual companies, always choosing to discuss specific issues with local labour unions and more wide-ranging issues with main national labour unions. The Group has an open, non-discriminatory approach towards labour unions, which is aligned to the expectations of its employees.
---
Personnel training
The development and growth of professional and management skills of employees is fundamental to guarantee the quality and absolute safety of all corporate processes.
For this purpose, the Group has offered about 480,000 hours of training in 2018.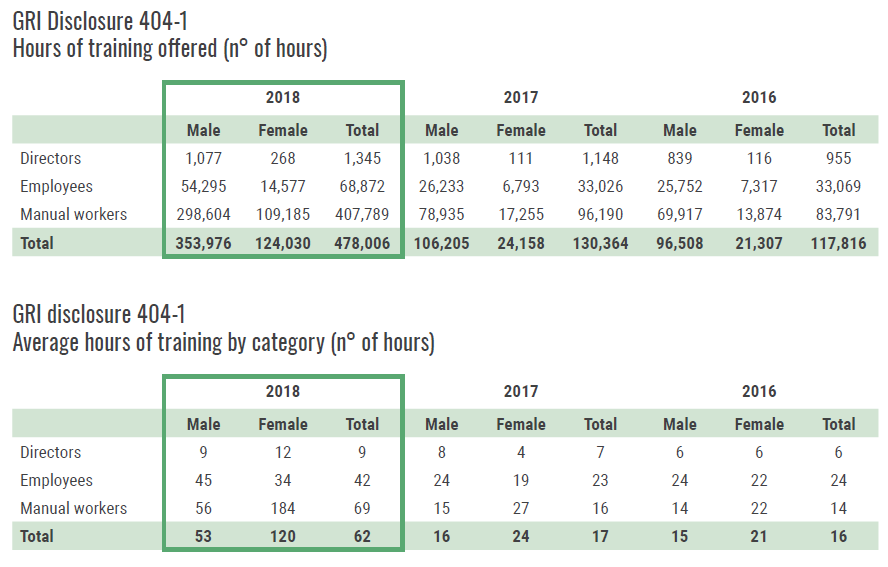 The types of training offered were mainly in the technical-professional, EHS*, and management skills fields.
*The Group promotes continuous and regular training in the field of environment, health and safety to all its employees, through a series of different initiatives (in-class lessons, workgroups in production area, "safety days").
data source: 2018 Annual Report