Protecting the environment
Energy efficiency. Emissions management. Waste management. Water management.
The production carried out at the Group facilities includes a wide range of metal manufacturing processes.
In particular, the main metal manufacturing processes and technologies currently used are:
Cold-stamping of steel and aluminium
Roll forming of steel and aluminium
Assembly of metal components by means of robot welding
Coating of metal components (cataphoresis, powder/liquid finishing)
Longitudinal and transversal cutting of steel
Cold re-rolling of steel
Steel annealing in furnaces and through heat treatment Such processes require – to differing extents – the use of means of production and energy sources, thus causing environmental impact.
The Group is confident that the creation of value – supported by means of profitable and socially responsible growth – must take into account environmental protection as a key factor in the execution of its corporate activities. Environmental integrity and safeguarding of all those who offer their services to Group facilities are inescapable values to be adopted by corporate management and all of its employees in carrying out each of their duties and practicing their respective roles.
In accordance with the pursuit of such values and goals, the Group carries out its activities in full compliance with current legislation and standards, and – moreover – commits to promote continuous improvement and prevention initiatives to its manufacturing processes.
This includes the development and expansion of methods based – now more than ever – on the fundamental principles of maximum reduction of environmental impact and optimization of resources.
As a proof of the Group's effort in this direction, it is worth noticing that:
all Group plants are required to monitor and reach the annual improvement goals set for the main indicators related to emissions, energy consumption, and water consumption;
76% of the plants have earned an ISO 14001 certification; the aim is to reach 85% by 2020.
---
Energy efficiency
In 2018, the Group's energy consumption was about 1.6 million GJ, mainly in the form of electrical energy (62%).
Energy consumption has increased by 2% compared to 2017, due to a growth in production output. Consequently, the energy intensity ratio has fallen by about 3% in 2018 compared to the previous year.
It is worth highlighting that electrical energy consumption applies to both production plants and administration offices, whilst heating consumption is exclusively related to the heat output of the office heating systems (gas is not used as fuel in the manufacturing processes).
The Group is aware that environmental protection must be – above all – pursued through the optimization of energy use, and this can also be achieved through little everyday actions carried out at the production facilities and offices. For this purpose, throughout the year the Group has organized communication campaigns to promote a number of Top Tips to raise environmental awareness among employees, and to reduce environmental impact by means of simple but effective behavioural rules.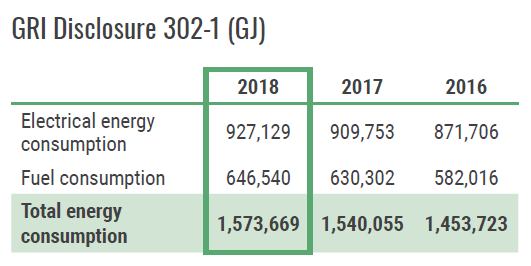 ---
Emissions management
Greenhouse gas emissions are the main cause of climate change and global warming.
The Group has committed to limit the emissions output of its production plants, and to launch related initiatives that may contribute to the European Union's commitment (Paris Agreement) to maintain global temperature rise at a temperature 2°C (35.6°F) below pre-industrial levels.
In 2018 direct and indirect greenhouse gas emissions recorded amounted to 35,161 metric tons of carbon dioxide equivalent, growing by about 3.5% compared to 2017, in line with the growing production output.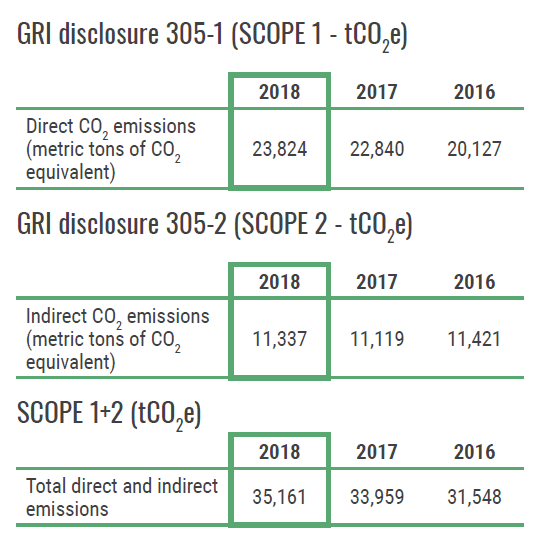 ---
Scrap and waste management
Steel, which is by far the raw material most utilized by the Group, is the most recyclable (100%) and recycled material in the world, due to the fact that it is one of only few materials that does not lose its properties once it is recycled.
Steel is the main scrap material in manufacturing processes carried out at the Group plants. Throughout 2018, the Group has re-sold about 400,000 metric tons of metals (steel and, to a lesser extent, aluminium) destined for recycling.
The total amount of recycled metals is the most significant portion of non-dangerous waste generated by the Group.


---
Water management
Metal manufacturing sites require the use of water in the cooling process. An uncontrolled use of water causes negative environmental impacts, such as the decrease in volumes of water available and the modification of natural ecosystems.
The optimization of water use by our factories is important, as it may reduce their general effects on the environment, including alteration of water sources; this should have a positive impact on operating costs as well.
In 2017 the Group has used 591,000 m3 (over 20 million ft3) of water, a 13% reduction compared to the previous year.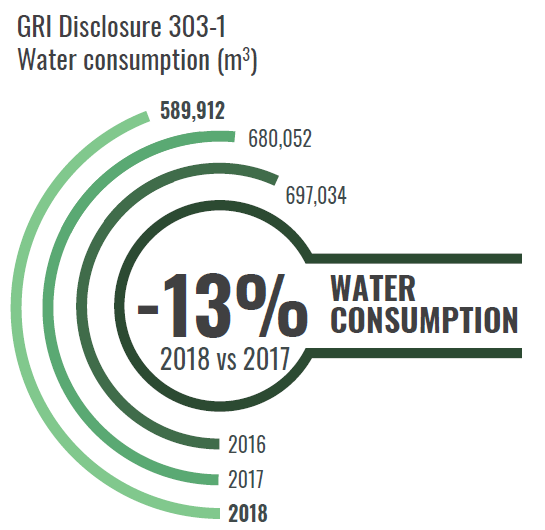 This reduction, achieved in spite of the increase in production output, is the result of the constant consumption optimization process undertaken by the Group.
An example of the Group's effort is the Water efficiency project launched by the MA Division to encourage production plants to engage in substantial water waste reduction.
data source: 2018 Annual Report